One of the best things about living in such a big city as London is that you get to experience all the wonderful things of a cultural hub, for example, going to art exhibits, museums, or live theater performances. However, this can also be a bit overwhelming, not only for tourists who wouldn't know what is worth visiting but also for the locals. Luckily for us, we live in a time when an app can be found for everything you need in life. Therefore, here is a list of apps that can be very useful for all those who want to explore the cultural scene of London. Some of them I have been using already and others I have heard great things about.
Museum of London: Streetmuseum
If you love history, this app is amazing for you. Cities have changed over the course of history and London is certainly one with a rich past. The look of the city now is completely different than, for example, one hundred years ago, not to mention five hundred, or six hundred years ago. Museum of London: Streetmuseum allows you to see London from the past and compare it with how it looks now. It is truly fascinating to stand in a street and see how it looked a long time ago. Moreover, with every part of the city, you get a small history lesson that tells you exactly what happened there, both the good as well as the bad.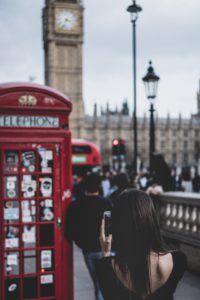 Riverside London – South Bank, Bankside, and London Bridge
All visitors who go to London for the cultural exploration of the town should definitely visit The South Bank, Bankside and London Bridge. Not only is there Tate Modern, but also many events and musical performances of the South Bank. This app can tell you exactly what is happening and where you should go. It has a variety of choices you can choose from depending on your interests, and it also gives you advice on which restaurants and bars are good in the area so you can grab a bite or a drink after you finish visiting the museums and galleries.
Shakespeare's London
Literature buffs cannot visit London without this app. You can go and see some of his plays performed live by some of the best actors in the country, but if you really want to experience Shakespeare in London, you should visit some of his favorite places. But how do you know where Shakespeare used to hang out? Well, this app can guide you through London and take you to Shakespeare's favorite spots or places that have some kind of significance to Shakespeare and his plays.
London: British Museum Guide & Audio
Visiting a huge museum such as the British Museum that hosts many important exhibits at the same time can be quite challenging for first-time visitors. I visited the museum several times already and I still get pretty overwhelmed when I walk in. To take care of this daunting experience, the app London: British Museum Guide & Audio helps you navigate the museum with a private guide in your ear. The audio feature of this app really helps make the experience more unique as you don't have to look at your phone all the time to read about the exhibits and then miss half of them.